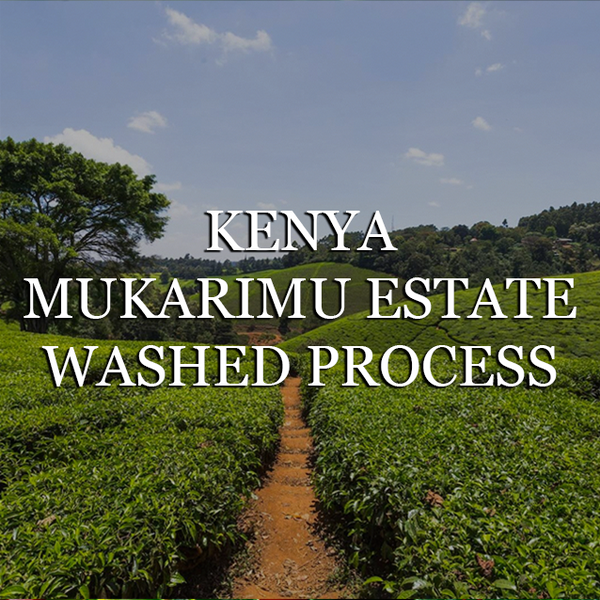 Kenya Mukarimu Estate - Washed Process
| | |
| --- | --- |
| ORIGIN | PROCESS |
| Kenya | Washed |
| FARM/CO-OP | VARIETAL |
| Mukarimu Coffee Estate | SL34, SL 28, Batian, Ruiru 11 |
| REGION | ELEVATION |
| Meru County | 1600 MASL |
| PRODUCER | TASTING NOTES |
| Charles Mutwiri | Black Currant, cocoa, caramel |
This estate is a combination of 10 small and medium farms totaling 33 acres (13ha) owned by Charles Mutwiri.  The name Mukarimu is derived from the first two letters of Charles's ancestral lineage. 
Muthuuri – Great Grandfather
Kaguora – Grandfather
Rintagua – Father 
Mutwiri – Son (and current administrator)
Coincidentally, Mukarimu also translates to someone who is generous or hospitable in Swahili.
Charles' vision is to transform his community through coffee. He has firm conviction in hard work and getting rewarded a fair share for one's efforts.  
In 1979, Charles inherited 150 coffee trees, producing 700 kgs of coffee cherry from his father. He grew this inheritance to what is now  Mukarimu Coffee Estate with 14,000 coffee trees producing more than 80,000 kgs of coffee cherry. Despite the volatility of the coffee market, Charles has remained committed to coffee. His work ethic, resilience, and commitment to his community has seen him inspire other farmers in the Meru region to get back to coffee farming. The passion for coffee runs through his family and one of his daughters is now a coffee farmer with 500 coffee trees, with another daughter working as a coffee professional for a coffee marketing company in Kenya.
Charles is a change missionary. Using coffee farming, he is involved in community projects that empower youth in coffee farming through education, mentorship, leadership, and character development. In 2017, he helped distribute 30,000 coffee seedlings to over 150 farmers as part of this project. 
Charles is also the coordinator for IMENYA, a partnership of 32 estate coffee farms in Meru County and is a board member of New Kenya Planters Cooperative Union.